Feb 22, 2013
Mother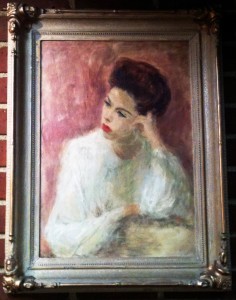 I've been thinking about my mother of late. March 20th would be her 92nd birthday if she had lived past the tragically-young age of 56. On the 20th, I will celebrate her life in my heart.
As I mention in my book, Mother was married so many times that until very recently, my brother and I could not agree on how many times exactly and to whom. I say "until recently" because Mark finally convinced me that his number—eight men, nine marriages (she married Dad twice)—was correct. Never mind that I knew nothing about a couple of these marriages! Or that at least one of them may have been spiritual but not legal. At least Mark and I agree!
Mother in Philadelphia, 1942. Beautiful and so unhappy. Artist: Helen Oman Gross, my aunt.
Mother did not have an easy upbringing. Her mother—my grandmother—was not a nice person. So deeply and profoundly insecure, she was unwilling to let anyone have a life worth living without her getting her piece of it; or picking away at others' confidence to render them less than her to bolster her ego. Mother and her two brothers all died very young. All were wonderful and dear people, the pleasure of my memories of them matched only by how much they are missed.
Growing up with my mother was not easy for me as well. Unlike Grandmother, Mother had a good heart. But her own insecurities led her to act in ways that whether she intended it or not were hurtful to me. There was a time as a teenager that I resented her horribly and blamed her for how unsatisfying my failed attempts at relationships had been. Even though my resentment would be understandable, holding onto this notion that others are to blame for ones condition has limited value if one is to improve his or her lot in life.
It doesn't even matter if those "others" did awful things to you. Somehow, someway, and for some reason, known or not, you were there when those awful things happened. It's not even about blaming yourself. It's about accepting—and even eventually embracing—ownership for the good, the bad, and everything in between. It's not that all sins are equal; they are not! But if you can take stock of the fact that one way or another, you owned that spot in your personal life story, you have a chance of discovering how you got to that spot so you won't have to do it again.
As a new parent, Mother made a conscious choice to treat her children better than she was treated. In my early twenties, I decided to stop blaming Mother for my failures. Both choices resulted in greatly improved lives. And while I continued to make my share of mistakes, I owned those mistakes. Like the seagulls in Finding Nemo said, they were "mine, mine, mine!" And if I could, all by myself, mess up so badly, there was hope I could also make things better!
My very best to you, dear reader. I wish for you a life as rich and full and fun as mine.  The world would be a better, happier, saner place to  live in if all of us were happy in love!
Tanii