Mar 18, 2015
Angelina Jolie and Brad Pitt – All Good!
When it comes to a viewpoint about marriage, I'm a fan. While hardly reflecting a traditional start, Angelina Jolie's comments on marriage mirror some of my own thoughts.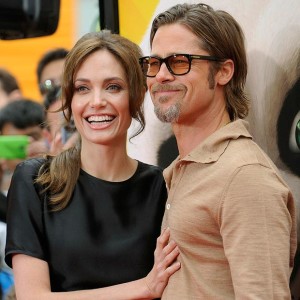 "It did change [after marriage]," Jolie told NBC's Tom Brokaw about her relationship with Pitt in November. "We were fortunate enough to be in that unusual situation. We got married with our children and they were part of the ceremony and they wrote some of the vows. It was all of us agreeing to be together and to just commit to this life together. Not because we had to, not because anything was missing in our lives… because we were absolutely sure we felt that much of a family. It was really lovely."
Jolie and Pitt… they certainly seem to be a lovely couple in every way!
When Charley and I decided to get married—a mere five days after we had our first real conversation—it was not because we had to or felt pressured into doing so by well-meaning family and friends or society in general. It was simply a natural progression toward committing ourselves to, as noted above, a life together. Somehow, making a public statement about that commitment, through the process of marriage, is a 100% commitment versus a 99% living–together commitment.
Though we got married three weeks later, we really wanted to elope. There were three reasons why we didn't and instead opted for a "big wedding:"
We couldn't work out a date where our three children could be there— really, the only ones that were important to us at the time.
Work commitments—we worked for friends and didn't want to let them down on prior commitments.
Our friends wouldn't let us elope! Instead they created a magical Western- style wedding for us with bales of hay, horses, Barbeque, and a Western band!
Notwithstanding the fact that the preacher was dressed head-to-toe in black—pants, boots, hat, long coat and carrying a shotgun—we did not have to get married! And I must say that after 28 years, we both consider that it was still the right thing to do.
Here's a wonderful quote that is in my book and that has been a great inspiration to me of what a 100% commitment looks like and how it IS different in so many ways:
"Until one is committed there is hesitancy, the chance to draw back, always ineffectiveness. Concerning all acts of initiative (and creation), there is one elementary truth, the ignorance of which kills countless ideas and splendid plans: that the moment one definitely commits oneself, then Providence moves too. All sorts of things occur to help one that would never otherwise have occurred. A whole stream of events issues from the decision, raising in one's favor all manner of unforeseen incidents and meetings and material assistance, which no man could have dreamt would have come his way. I have learned a deep respect for one of Goethe's couplets: 'Whatever you can do or dream you can, begin it. Boldness has genius, and magic in it.'" W.H. Murray, The Second Scottish Himalayan Expedition.
Yours in love,
Tanii