Introduction

It was Saturday, January 31st. All I wanted him to do was help me load a heavy chair from my garage into a borrowed truck. Simple. I was 45; he had just turned 29. The following Friday we decided to get married and did so three weeks later, exactly four weeks after that fateful Saturday when my life changed forever.
On February 28, 2013, we celebrated our 26th anniversary. He still thinks I'm eye candy and I still think he's the sexiest, most wonderful man in the world.
I know exactly what I did to go from twice-divorced and miserable to meeting the man of my dreams in a few short weeks. What I did is the subject of this blog and my book, "Ten Weeks to Love."

Mar 12, 2015
Experts with the Answers—Maybe Yes, Maybe No
In the past few months I've met some terrific people in the relationship field: Ariel Ford, Jack Canfield and Julie Ferman among them—people whom I respect and whose ideas offer a more holistic view of men/women relationships. However, I'm also seeing a lot of sites and professionals who play up the generalized differences between the sexes as their primary message and focus with little to no attention on the unique and distinct qualities that make individuals, individual. And I think that this narrow focus—on our differences, broadly advanced in society among a trusting public who often buy, wholesale, what viewpoints experts further—opens the door to disrespect, dishonor, and ultimately violence and abuse.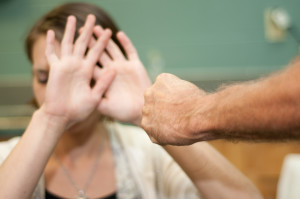 We see the extremes of this in foreign countries where it is somehow okay for men to beat or kill their female family members because they are women; they are different from men—different being the great justifier of inhumane acts perpetrated by one entity upon another. "Hey, it's not my team, my family, my sex. It's the other team, family, sex, the one that is different from me, my enemy."
1 in 4 women will experience domestic violence during her lifetime.
Mar 11, 2015
This past Sunday, March 8th, was International Women's Day, a global celebration of respect, appreciation and love towards women as well as a celebration for women's economic, political and social achievements. Sadly, it is also a sobering reminder of how many women throughout the world are victims of violence and abuse which, in my view, has only escalated over time (or maybe we're just hearing about it more).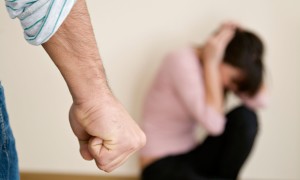 The holiday gave me pause to consider what the origins of such abusive behavior might be. Are there baby steps that lead to overt abuse; or does a person go from loving and respecting a woman to abusing her in one giant step? More importantly, what can be done to halt and even reverse the downward spiral?
Domestic violence is the leading cause of injury to women—more than car accidents, muggings, and rapes combined.
Mar 10, 2015
Due to Charley's hectic work schedule, we don't have much chance to "get outta Dodge." But our new Range Rover provided us with a great excuse to get up to Carmel by the Sea, four hours from our home in Southern California. We bought the Rover specifically for its off-road capabilities to accommodate Charley's love of photography (he was a pro photographer for many years before we met). Landscapes is one of his specialties so we really needed a car that would safely take him to roads less traveled.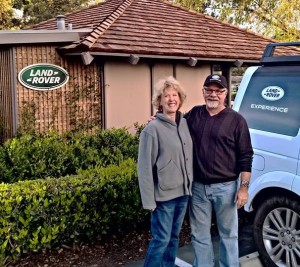 Seems that there are only three Land Rover training locations in the U.S. and the only one west of the Mississippi is in—you guessed it—Carmel! Which happens also to be the home of my wonderful brother Mark and his lovely wife Barbara, whom we visit whenever we get the chance.
Land Rover is the parent company, Range Rover being one of its models. Here we are after our Experience, none the worse for wear and happy, happy, happy!
Mar 4, 2015
Perhaps! Today I did the second radio show with Natassja "Lady NV" Bynoe. Her show originates in Barbados, but has an audience in Africa and Europe, a combination of lively music (I heard reggae in the background today) sprinkled with talk. As before, we had fun! Plus, she sent us a photo of her reading my book as her dog sat on her lap! (She told me today that in her town, her dog gets recognized more than she does!) I guess it went well today because I'll be on again next week! Thanks, Natassja!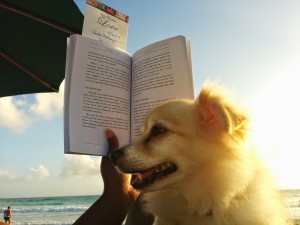 I also did an interview with Phil Hulett & Friends this week, based in Southern California. It was short but fast-paced and I really like these guys! You can check out Phil, his friends, and show at: http://philhulettandfriends.com/
Both these shows were on how to recover from relationship hell (been there, done that—not going to do that again…ever)!
Natassja "Lady NV" Bynoe and her adorable pooch!  I wonder if they're both reading my book! 
Mar 2, 2015
This past Saturday, February 28th, Charley and I celebrated our 28th wedding anniversary! The time has gone by so quickly, mostly noticeable by how much the kids and grandkids have grown. Simon and Amy were only four and two when we got married; and Josh, just 18. Now they're all grown up and leading productive, plentiful lives of their own with their own families and friends. Charley and I are truly blessed.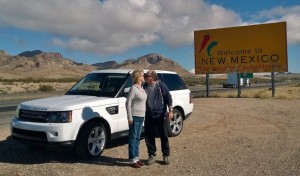 Both of us had work commitments last Saturday—at least up until noon. Then we took off, driving around old, familiar neighborhoods in Santa Clarita, all the while talking about how we were going to create our lives from this point forward. How we're going to fulfill as yet unfulfilled goals and dreams, recommitting ourselves to supporting each other's games and passions!
Kissing our way to New Mexico on a road trip in December to visit our son and his family!