Sep 26, 2014
Sarah the Wonderful!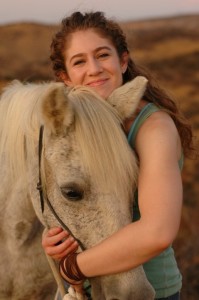 Relationships come in all shapes and sizes, both personal and professional. But for all the different ways in which we interact with others, all truly great relationships have some things in common.
When Charley and I decided to hire our friend and extended family member, Sarah Carman, as my personal assistant, it was our most fervent hope that our working relationship would be as great and enduring as the personal relationship we had enjoyed for over ten years.
We were not disappointed!
Horse and animal lover, Sarah, is that strong and gentle soul, who is also articulate when expressing deep-seated opinions yet tolerant and genuinely interested in the opinions and viewpoints of others. What a treat that our schedules, lives and needs converged! Here she is with our beloved horse, Refinado (Ref), in his 30s at the time this photo was taken. Can you feel the love?
Even from the start, this new working relationship with Sarah has been great and has all the signs of becoming even greater over time—exactly as it has been with my marriage to Charley over the past 27 years—great and getting even greater!
Here are some other parallels: A truly enriching, meaningful—and lasting—relationship is made up of really good people. The team is only as good as everyone is on board on the same terms with the same level of energy, enthusiasm, participation and positive attitude. Even after a few weeks, Sarah and I are so in sync that she's thinking the same things that I'm thinking! Creepy for some, exhilarating for me!
Next: Open and free communication is vital to any ongoing relationship. Even when I shared with her a couple of "cute" things she was doing that needed correction, she and I had a great and rewarding conversation that ended with both of us laughing and learning.
How about this one: It's not about perfect people, but perfect matches. Just as Charley's and my personalities, skills, talents, abilities, interests, goals and purposes complement each other beautifully, so it is with Sarah and me. She is passionate and capable in all the areas that are my weakest. She complements me. The more she takes those things off my plate, the more I'm able to do what I do best. It's a real win-win! Together we'll accomplish more than either of us could have accomplished separately.
She embodies the Wish List and ideal working relationship that both Charley and I envisioned. We did not have to compromise one bit. Sarah is the right person for the job and me and I'm the right person with the right job for her.
And lastly: Neither of us is desperate in our working relationship. If at some point she sells a script or has a golden opportunity that fulfills some life purpose that our working relationship does not, she already knows that as disappointed as I might be, she'd be free to pursue other dreams. As it is with Charley and me, first and foremost, we are friends, the best of friends. What makes her happy is important.
I will only add to what she says about herself in the next post, that she is beautiful, smart, a terrific horsewoman, and a talented writer and actress. Over to you, Sarah!
Your in love,
Tanii